Experience the Calm and Stress Relief that Lets You Feel Your Best
Life is stressful, let Truvaga help
Truvaga is a revolutionary handheld vagus nerve stimulator that reduces stress by using our proven technology to quickly and gently activate your vagus nerve, where it counts.
Designed to work with your body to balance the nervous system, Truvaga reduces stress so you can feel calmer, think clearer and sleep better. Helping you get back to what matters most.
Give your body's natural relaxation response a helping hand
You deserve the freedom to feel your best. With Truvaga, you see results without making compromises. Our proprietary technology works alongside your body to counterbalance your fight or flight response, reducing stress, enhancing mood, focus and sleep.
According to the National Institute of Mental Health, over 16 million adults in the United States suffer from some form of stress-related disorders. Stress can lead to a number of problems, including insomnia, anxiety, depression and low energy. It can also cause physical symptoms such as gastrointestinal issues, headaches, and chest pain.
That's where Truvaga comes in. Unlike other vagus nerve stimulators which indirectly activate the vagus nerve through connecting nerves elsewhere in the body, Truvaga activates the nerve directly at the primary source, in turn, activating more of the nerve.
Why is this important? Activating the vagus nerve influences the body's stress response. This helps restore and uplift serotonin and norepinephrine, thereby reducing stress levels and improving overall sleep, focus, and mood.
"The treatment definitely induces a physical sensation of calm. After a session, I feel a re-harmonization of my mental & physical function. I think faster & clearer, with less fatigue for longer periods of time."
~ Robert C.
Don't wait, get Truvaga risk-free today.
We have a 30-day money-back guarantee, so if you aren't completely happy with the results, you can return it within the first 30 days, no questions asked.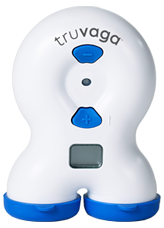 *Includes free standard shipping.